Butterflies of Southern France
---
Here is a small selection of the many butterflies which me and my friend Norbert could photograph in spring 1997 in Southern France:
Just click on the small butterflies to see the full images.(Don't miss the images of the map's right side!)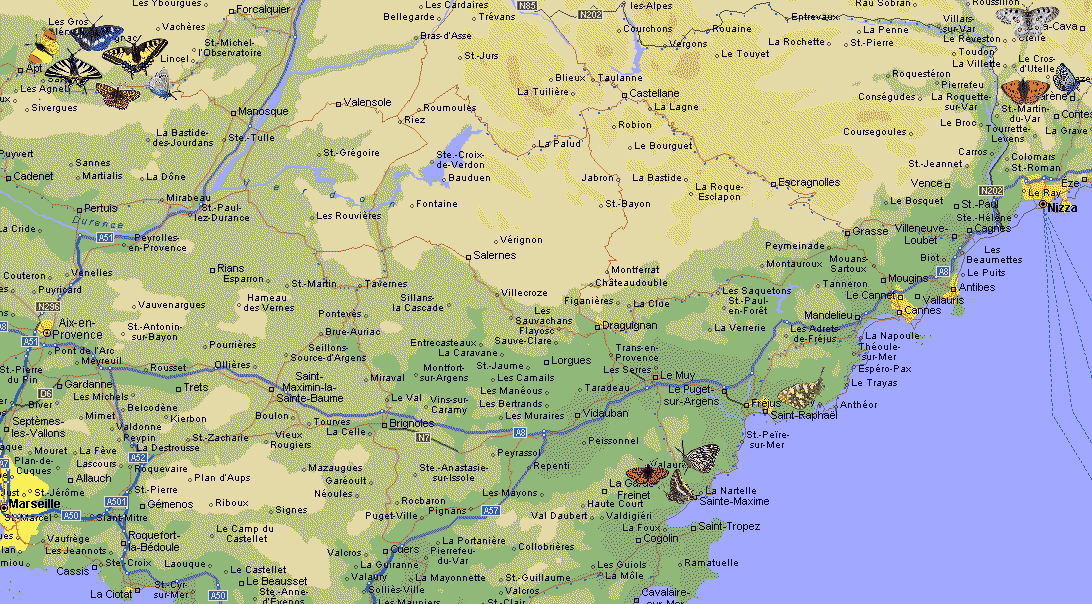 A short anecdote about the Two-Tailed Pasha:
It actually sounds unbelievable, but do you know that butterflies are able to attack? Yes, you are reading right, I mean attack! The Two-Tailed Pashas did so. My friend Norbert and I have seen about 6 or 8 Two-Tailed Pashas. All of them have been males that were resting on the outer twigs of some bushes, each a few yards apart. I guess they were waiting for females. Everything flying in the area was attacked. They even tried to chase away birds as they defended their territory.
Slowly I approached a waiting butterfly to make a photo. Unfortunately it noticed me and flew away, but it didn't flee. It overtook me repeatedly, diving from the front and the rear. Sometimes it even touched the back of my head! Only when I retreated from it's bush and hid in the shadow of a tree did it calm down, and soon returned to its previous resting place. This scene reoccurred almost every time it noticed our approaching. When we didn't retreat from his bush after a few more overtakings it gave up, flew away and took some time for it to came back again. It made a deep impression on me, don't you think so too?
---
Copyright © 1998 - 2005 by Mario Maier
Send your comments or suggestions to the Webmaster of EuropeanButterflies.com

HOME