Erebia tyndarus (ESPER, 1781)
Swiss Brassy Ringlet
---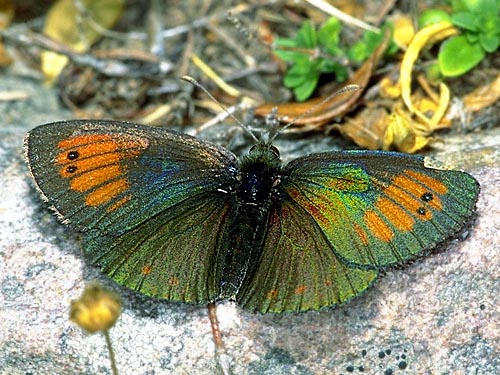 Photo © by Mario Maier. Erebia tyndarus, August 1988, Meran 2000 / Italy
Family: Satyridae
Subfamily: Satyrinae
Description:
Erebia tyndarus can easily be confounded with two other species: Erebia cassioides and Erebia nivalis. The following list of differences may be helpful though not always conclusive:
Erebia cassioides
Erebia nivalis
Erebia tyndarus
Shape of the wings:
Apex pointed
Apex round
Apex pointed
Upperside fore-wings
Reddish-brown pattern:
small sized
two of the spots extend to the central cell
spots are parallel and are connected
Eye-spots:
usually large, coherent, cores always white
small, incoherent, cores always white
usually small, cores not always white, sometimes missing
Underside hind-wings
Color of male:
grey
grey to greyish-blue
grey to dark grey
Color of female:
grey to yellowish-grey
brownish grey, veins yellowish-grey
grey to brownish-grey, veins varying
Source: Tagfalter und ihre Lebensräume by Schweizerischer Bund für Naturschutz.
Flight period:
On brood from July to August.
Larval host plants:
Festuca ovina, Nardus stricta.
Red List Germany: ?
---
Copyright © 1998 - 2005 by Mario Maier
Send your comments or suggestions to the Webmaster of EuropeanButterflies.com

HOME